JUSTIN LEE COLLINS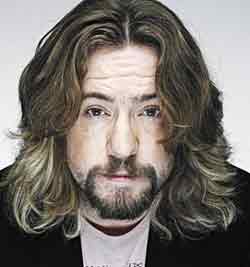 Justin Lee Collins is a British comedian, television and radio presenter from Bristol.

Collins worked as a double-glazing demonstrator before trying stand-up comedy at the 1997, but he gave this up in 2002 to concentrate on TV and radio presenting.
From 2003 - 2005 he hosted his own radio show on XFM. He made a number of shows for Bravo and MTV but his big break came when he became the host of the companion show for the first series of Strictly Come Dancing. He was replaced by Claudia Winkleman the following year and the show moved from BBC3 to BBC2.
In 2005 and 2006 he presented The Games: Live At Trackside on E4 with Caroline Flack and was one of the presenters of Channel 4 and Paramount's Flipside TV.
Collins recently presented of The Sunday Night Project (previously named The Friday Night Project) with Alan Carr for Channel 4. He has also hosted specials on Channel 4 including Bring Back... which reunited casts from famous shows or films such as Dallas, Star Wars and Fame as well as presenting The Convention Crasher in which he learned skills such as clowning and ventriloquism in an attempt to win prizes at professional conventions. 2009 saw him taking on challenges to become a Mexican Wrestler, Surfer, Ballroom Dancer, Ten Pin Bowler, High Diver and a West End Star (playing the part of Amos Hart in Chicago).
He has acted as guest presenter on The New Paul O'Grady Show on Channel 4 whilst O'Grady took a break and appeared on Top Gear with Alan Carr in 2008 in Star in a Reasonably-Priced Car. He hosted Bring Back Star Trek in which he tried to bring back the cast of the 1960s television series.
In 2009 he signed a £3 million deal with ITV2 for the Justin Lee Collins Show which ran from March to May 2009. He then hosted of the Sky1 show Oops TV, which shows home videos of people doing stupid things and things going badly wrong.
In 2010 he hosted 10 week chat show on Channel Five: Justin Lee Collins: Good Times.
He has been appearing Rock of Ages at the Shaftesbury Theatre in London's West End playing the part of role of Bourbon Bar owner and ageing hippy Dennis Dupree