EMMA WILIAMS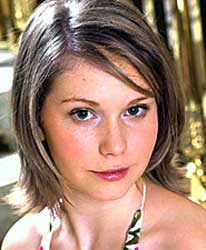 Emma Williams is a British actress who has had a successful career in both TV, film and on stage.
 
Her West End theatre credits include: Truly Scrumptious (Chitty Chitty Bang Bang), Scarlett Rhodes (Playing for Reward), Betty Schaeffer (Sunset Boulevard), Shelley Parker (Bat Boy), Ellie Brookes  (Sex, Chips and Rock 'n' Roll), Fran Kubelik (Promises, Promises), Chipo the Flamingo (recording of Bush Tales), Kat in Tomorrow Morning, Susan in Desperately Seeking Susan at the Novello Theatre, Christine Keeler (A Model Girl), Faith (The Lucky Man) and Johanna (Sweeney Todd at the Royal Festival Hall with Bryn Terfel).

TV and film roles include; Susie Cope and Lucy (Heartbeat series 7 and 10), Kelly Armitage (Where the Heart Is), Justine Clancy (Four Fathers), Kirsty (The Parole Officer), Ruby Keene (Miss Marple - The Body in the Library), Rosa Cartwright (Bleak House), Sally Winters and Tamara/Jenny Jones (Doctors).

She recently finished her second feature film "Cosi" with Richard E Grant and Sarah Brightman in which she plays an opera singer.

In 2009 Emma Williams was nominated for an Olivier award for best actress in a musical for her portrayal of Luisa in Zorro at the Garrick theatre. Also in that year she appeared as a guest singer in Michael Ball's 25th anniversary concert tour and has also performed on BBC Radio 2's Friday Night Is Music Night.

Emma recently played Jenny in the new musical Love Story the Musical at the Duchess Theatre.