DAVID ESSEX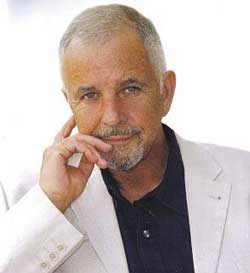 David Essex was born in Plaistow in Essex.  His father was an East End dock worker and his mother was a self-taught pianist and Irish Traveller.
David Essex has a career which has combined concerts, records, theatre, composing, films and television. He has written, recorded and produced albums and singles that have sold millions of copies worldwide with twenty-three Top 30 singles in Britain alone.
David shot to fame when he went to an audition for the London production of the musical Godspell and was chosen for the role of Jesus. At the Roundhouse, and for two years in the West End at Wyndham's, David led a cast including who were Jeremy Irons, Julie Covington and Marti Webb.
Two years later he starred in the film That'll Be The Day (1973) and recorded his only international hit single, the self penned Rock On. It sold over one million copies and his second single, Lamplight also reached the Top 10 in the UK Singles Chart.
His biggest hits during the 70's included Gonna Make You a Star and Hold Me Close. He also appeared in Stardust which was the sequel to That'll Be The Day.
In 1978 he appeared on Jeff Wayne's concept album, a musical version of The War of the Worlds, as the Artilleryman. The arena tour of this musical extravaganza is about to start again, but this time with Jason Donovan playing the Artilleryman.
Also in 1978 Essex played Che (loosely based on Che Guevara) in the original production of the Tim Rice and Andrew Lloyd Webber musical Evita.  His recording of the show's Oh What a Circus reached Number 3. Two years later, he starred in the film Silver Dream Racer; and the soundtrack song Silver Dream Machine was yet another Top 10 hit in the UK singles chart.
In 1985 he co-wrote and starred as Fletcher Christian in the West End musical Mutiny! The score produced two more hit singles, including Tahiti which was his tenth Top 10 success.
David Essex tours regularly and appeared in the musicals Boogie Nights 2, Footloose and Andrew Lloyd Webber's Aspects Of Love.
From September 2008 to the summer of 2009 he took his own musical, All The Fun Of The Fair, on a tour of the UK and followed this in the autumn with a sell out tour.
Last year he appeared in London's West End with All The Fun of the Fair at the Garrick Theatre in Charing Cross Road and has been appearing in BBC TV's EastEnders as the head of the Moon family (father to Michael and uncle to Alfie.
He has been touring with his musical All the Fun of the Fair and recently finished his eagerly awaited David Essex Rock Tour.
His new album Reflections is due for release on 4th November.