CAISSIE LEVY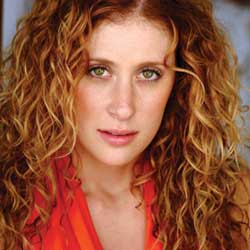 Caissie (pronounced Casey) Levy is a Canadian actress and singer who had her big break when she played the role of Penny Pingleton in the musical Hairspray on both the Broadway and US national tour.
She also played sassy Maureen Johnson in the US national tour of Rent.
In 2008 Levy starred as the green witch Elphaba in the Los Angeles company of Wicked after understudying the role on Broadway. Her first performance was on January 1 2008, replacing Eden Espinosa.
Levy recently starred as Sheila in the Broadway revival of Hair, and moved with the production to the Gielgud Theatre in the West End revival which closed in September 2010. She can be heard on the cast recording for Hair as well as singing, "Please Don't Let Me Go" on the re-release of composer Scott Alan's "Keys".

Caissie has been starring in the new musical Ghost at the Piccadilly Theatre playing Molly which is the part Demi Moore played in the film version and has just finished playing the role on Broadway.