ALL OR NOTHING SMALL FACES MUSICAL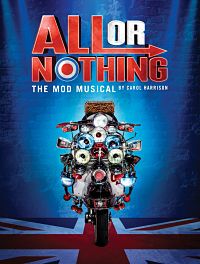 ALL OR NOTHING, the Small Faces musical, has just toured the UK again for a third time ending at Harrogate Theatre on 11th November 2017.
The show is now due to transfer into the Arts Theatre in London from 8th February-11th March 2018
Written and directed by the award-winning actress Carol Harrison, the Mod musical ALL OR NOTHING tells the ebittersweet tale of Kenney Jones, Ian McLagan, Ronnie Lane and Steve Marriott; four charismatic young kids from East London who became the Small Faces and were rocketed into the big time, only to discover the path to fantastic success is paved with exploitation, betrayal and ultimately tragedy.
Carol Harrison plays Kay Marriott at certain performances, with Stefan Edwards as Kenney Jones, Russell Floyd as Don Arden, Josh Maddison as Ian McLagan, Joseph Peters as Jimmy Winston, Samuel Pope as Young Steve Marriott, Chris Simmons as Steve Marriott and Stanton Wright as Ronnie Lane. The cast also includes Daniel Beales,Sophia Behn, Melissa Brown-Taylor, Daisy Darvill, Fran Dearlove, Katie Faye, Alexander Gold and Danielle Johnson.
ALL OR NOTHING celebrates the unique sound of the iconic Mod band. Played live, the musical is packed full of all the timeless hits, including the classic Whatcha Gonna Do About It, Tin Soldier, Lazy Sunday, Here Comes the Nice, Itchycoo Park and of course All or Nothing.
Buy tickets for All Or Nothing at the Arts Theatre in London from 8th February-11th March 2018