A SPOONFUL OF SHERMAN TOUR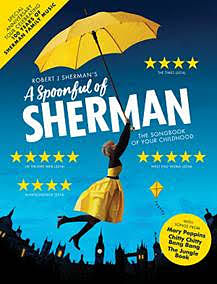 UNITED THEATRICAL and MUSICWORLD (UK) have announced a special 100 year anniversary UK tour of ROBERT J. SHERMAN's 'A SPOONFUL OF SHERMAN'
new musical stage show featuring the songs of the double Oscar-winning Sherman Brothers - Richard M Sherman & Robert B Sherman who wrote more motion picture musical songs and scores than any other songwriting team in film history.
From 1964 onwards their partnership produced music for dozens of films, particularly many of Disney's best loved titles including Mary Poppins, Chitty Chitty Bang Bang, The Jungle Book, Bedknobs & Broomsticks, Charlotte's Web, and The Aristocats. They were the sons of the great Al Sherman (1897-1973) whose own musical talents produced songs for artists including Frank Sinatra, Ella Fitzgerald and many singers of the golden American Songbook period of the 1930s-1950s.
Under the direction and choreography of Stewart Nicholls, the incredibly talented cast is made up of Sophie-Louise Dann (2017 Olivier Award nomination for Best Actress in a Leading Role in a Musical); Glen Facey (The Wizard of Oz Sheffield Crucible); Jenna Innes (nominated for Best Actress in a New Musical in Broadway World's West End Awards 2016); Mark Read member of boyband A1, Guys and Dolls (Epsom Playhouse), Seasons of Love (West End), Ben Stock (Grease, Chitty Chitty Bang Bang, Dame Edna: The Spectacle - West End) who is also the show's musical director.
Robert J Sherman, son of Robert B. Sherman and a successful composer in his own right brings the utterly compelling story of one family's century-long, award-winning musical journey to UK audiences in 2018. Three generations of Sherman songwriters are brought to life in this show which includes songs from Robert J. Sherman's own musical, Love Birds, which premiered at the Edinburgh Fringe in 2015.
THIS TOUR ENDED ON 3RD JUNE 2018
​